Welcome to John Bertges' On Target Golf Schools of Indiana!
Nike Golf Schools and Jr. Camps is excited to present a new location at Tee Time Golf Complex in Evansville, IN. Come join PGA Professional John Bertges and his staff for a week of quality golf instruction. We offer Full Day Camps and Half Day Camps.
Camp Schedule »
Highlights Include:
Group instruction with low student/teacher ratio by our experienced camp staff
Three hours of practice each day working on all facets of the game; putting, chipping/pitching and the full-swing
Daily course play with staff (9-18 holes) focusing on course management, shot selection, strategy rules and etiquette (full day camps only)
Nike amenity package including a Nike hat, one dozen Nike golf balls, a camp workbook, Nike bag tag and other great prizes
A healthy and positive learning environment designed to help every camper get better!
What is On Target Golf Schools?
On Target Golf Schools was developed by three top teaching professionals in the U.S. with over 50 years of combined national golf school teaching experience. The schools are nationally recognized and have been operating for 5 years. OTGS's core 'Six Week Swing School' is the basis of solid fundamental golf. The On Target Model System is a refinement of the best training and teaching methods available today... Find out more »
Our system is very simple, too. You'll never get more than one thing to work on at a time. The key to training any new motor skill is best accomplished by repeating it over and over again until it can be done without thought. In addition to the 'Six Week Swing School' we offer a comprehensive variety of :: Individual Lesson Packages, Junior Camps, and Specialty Schools.
About John Bertges, Director of Instruction
John Bertges has been teaching and coaching golf for over 20 years. He is a PGA Class A Member, a PGTCA Master Golf Coach and has given over 25,000 lessons to date. Find out more »
OTGS 6 Week School
Spring Classes Are Now Open!


The schedule is ready for the 2020 OTGS 6 Week Swing School. Meet an Hour a week for six weeks and learn to play better golf!
Sign up online »
Fall Jr. Golf League
League begins Sept 8th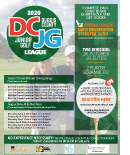 All participants must have some previous junior golf experience. Each week a different event will give the participant an opportunity to experience various forms of play within the game of golf as well as values, rules, and integrity.
Sign Up Now »